The weather was undoubtedly a factor limiting operations but there were numerous days when aircraft got off the ground and flew out over the sea but gave no sign of wishing to go any further and it is hard to conclude that the Luftwaffe took every opportunity the get photographs of British targets at this period. There is no sign that they ever tried to go inland seeking out troop assembly areas, stores dumps and so on, so any estimates they made of Allied strength from aerial reconnaissance could only have been derived from an evaluation of the shipping capacity their sorties identified. It seems probable therefore that the Allies' physical deception measures such as dummy tanks and aircraft were largely wasted since the Luftwaffe hardly ever tried to get much beyond the coast, although they may perhaps have overflown some of the fake landing craft, for example during the 24 May mission which took in Foulness, Canterbury, Dover and Folkestone.
In order to deceive the Germans as to the planned location of the D-Day landings, 255 fake landing craft were moored in Dover Harbour. From a distance — for example, from an enemy aircraft flying past at high speed — the dummy craft could be mistaken for the real thing. In fact they were only made from wood and canvas, or inflatable rubber stiffened with metal struts!
It is true that in mid-April 1944 there were only a Stab and three (soon to be four) Staffeln of Bf 109 photo-reconnaissance aircraft (plus a handful of Fw 190s) along the Channel Coast, say 35–50 machines in all. Accident-prone as Luftwaffe pilots were, maintaining material strength does not seem to have been a problem, with a constant flow of aircraft between the front line and the repair, servicing and conversion facilities in France and Belgium. Maintaining a flow of trained pilots was never the Luftwaffe's wartime strong point and it is possible that specialised instruction for the single-seater pilot-observer role may have been a limiting factor. It is of course possible that strength was being conserved for battlefield reconnaissance once the invaders were ashore but this presupposes great pessimism about the possibilities of properly forewarned defenders stopping the landings in their tracks.
The Luftwaffe's contingency plan for meeting an invasion—Drohende Gefahr West (Imminent Danger West)—was reactive, drafting units in from all over Europe once the Western Allies committed themselves. The sooner the Germans could get these reinforcements moving, the better able they would be to counter the landings. By early May the concentration of Allied shipping in the harbours of Dorset, Hampshire and West Sussex had been identified, so knowing when troops and vehicles actually embarked was surely of critical importance. As it was, the Germans missed the embarkation and the ships setting sail, the invasion achieved surprise and the Luftwaffe's reinforcements only began arriving after the Allies had established themselves ashore.
A more determined effort to obtain coastal and overland photographs must undoubtedly have cost men and aircraft, but military commanders have to weigh potential losses against expected gains. Knowledge of the composition of the invading forces, the direction and timing of their attack cannot surely not have seemed as if it was not worth losing some pilots and machines.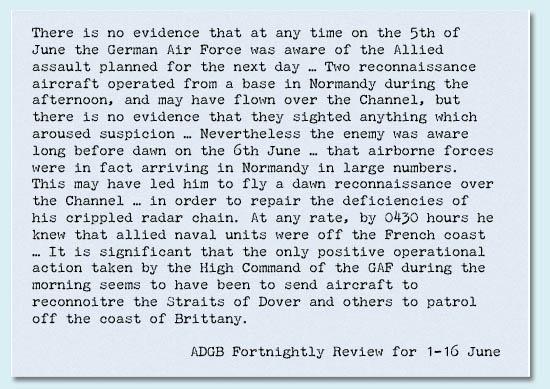 Coastal radars had been of little help as a post-mortem by the Sea Defence Kommandant for Normandy later explained:
On 5/6 at about 2300 [GMT+2] usual individual enemy targets located off the coast were engaged by coastal artillery and driven off. No invasion intentions discernible from remote location. Coastal area alerted only after parachute jumps from 2300 hours on. Sets in Seine Bay jammed by powerful Allied irradiation. General situation therefore obscure … Resumption of location from 0220 onward showed approach of enemy targets in Orne Sector … Enemy irradiation did not finish at 0220 but occasional individual locations were possible in spite of this. Intention of landing became clear through emergence of many targets, particularly from 0305 at a distance of about 10 miles from coast …
Perhaps spurred by the airborne landings during the night, Luftflotte 3 sent six Fw 190 of I./SKG 10 and three Me 410 of II./KG 51 on reconnaissance of the seas between Cherbourg and Le Havre from 0233–0315 GMT, reporting seven formations of about 200 ships in all. Toward the end of this period, pilots of 3./SKG 10 encountered Lancasters over the Isigny area, Fw. Eisele claiming one and Obltn. Eberspächer three.
Over the Channel our fighters have flown continuous reconnaissances to establish invasion movements.
Seelkriegsleitung, 6 June 1944
The 4.(F)/123 sent off two Bf 109 for an offshore reconnaissance at 0414 but they aborted after only eight minutes "owing to fighter defence." Another pair abandoned a mission to the Seine Bay at 0737, for the same reason and after the same amount of time. Trying again at 0856, one Bf 109 managed to sight two destroyers before an encounter with eight Typhoons which led its companion to turn back. The Rotte that took off at 1016 broke off after 20 minutes, having sighted a concentration of small vessels which the intervention of Allied fighters prevented them from counting. The Staffel dispatched three more two-plane missions during the afternoon and evening. The first of these, at 1409, managed observations of Le Havre, Honfleur, Trouville, and the beach from Courseulles – Ver (JUNO) and reported "many small ships, stationary" as well as encountering two fighters. The operations at 1540 and 1851 brought no important sightings and were yet again abandoned in the face of Allied fighters.
By contrast, an "unusually long recce" (in the words of British Intelligence) by 5.(F)/123 was "conspicuously successful" with a flight by two Bf 109 to the Thames Estuary. Lasting from 0622–0800, this operation made sightings off Orfordness; overflew Margate and Hastings; saw a troop encampment at Dungeness; and covered the Franco-Belgian coast between the Somme Estuary and Ostende. A flight such as this is just what the Germans needed to establish whether Allied landings might also be attempted in the Pas-de-Calais area in the near future.
Another Bf 109 reported six LST and six freighters estimated at 36,000 tons in total. Radio traffic indicated that two more operations were mounted during the afternoon but no details emerged.
NAG 13 undertook a security reconnaissance of the Western Channel from 0435 with two Bf 109 which saw nothing. At 1116, two more reconnoitred off the Channel Islands and at 1302 at third pair were operated between Carentan and Quinéville. This last mission was intended to ascertain details of the American airborne landings and made numerous sightings of troops and armour before fighters drove them away. The Gruppe was now to be subordinated to Fliegerkorps 2, its role changing to battlefield reconnaissance.
In the afternoon, 4.(F)/123 sent up another four missions to the Seine Bay, the 5. Staffel was also active and two aircraft of NAG 13 took off from Dinard at 1300 GMT.
A map of the Channel Front showing German reconnaissance bases; approximate zones of operation; targets; and locations of crashes.
continued on next page …