21 April
Activity over the Channel stepped up considerably. From 0846–0943 "a small formation of aircraft", thought to be from 5.(F)/123, was tracked off the East Kent coast. That day the japanese Naval Attaché sent this overall appreciation to Tokyo:
Although reconnaissance difficult it is thought most of Allied naval strength concentrated in Scapa Flow … no concentration of landing craft South and South East Coast, so assumed concentrated West Caost which is difficult to reconnoitre.
An enemy aircraft "identified as a Fw 190" was picked up at 1034, 70 km off Selsey Bill and heading NW. Fourteen minutes later it made landfall over Bournemouth, flying over Swanage and Poole before heading back to Cherbourg. At 1054 it reported that it was being pursued by Allied aircraft and was caught attempting a landing at Cherbourg. Bf 109 G-5/AS/U2, W.Nr. 110086 was rated 35% damaged and struck off the inventory of 4.(F)/123.
NOTE: W.Nr. 110086 was returned to its Staffel on 18 May after repairs at Conches; on 11 June the unit was repairing damage to its engine; on 6 July it was shot up and Gefr. Seinwill crash-landed it at Guyancourt. It was one of at least three machines in the Staffel which had been fitted with a new type of radiator cut-out valve by the Erla workshops in Antwerp.
Two NAG 13 aircraft were up from Morlaix at 1245 for a maritime patrol, followed by three more from Dinard at 1515; nothing was seen other than a lone escort vessel. At 1637 another three machines took off from Dinard with two more 20 minutes later, all bound for Lyme Bay. Nothing more seems to have been seen other than a warship of uncertain type heading north east.
22 April
It can be seen that the enemy's preparations for a landing are underway … Individual landing vessels are moving from east and south east coasts to their jumping-off harbours. Landing exercises are taking place on the English south coast.
Marine Gruppe West assessment, 22 April
Six-plus fighters were tracked by radar off Orfordness during the morning, three of which were heard on R/T, and direction-finding plotted their return to the Bruges area; they were warned of Allied aircraft between Calais and Koksijde. These aircraft were able to report a formation of 12 ships, three Motor Torpedo Boats (MTB) heading north at high speed and a convoy of 20–25 ships off Orfordness and photos were secured of Great Yarmouth and Lowestoft.. The British thought this was probably a mission by 5.(F)/123.
A Rotte (from 4.(F)/123?) was warned of Allied aircraft between Cherbourg and Abbeville between 1512 and 1622. TTwo shipping sightings were reported: a 9-strong westbound convoy off Portsmouth and 16 ships stationary off Eastbourne. A pair of machines from NAG 13 took off from Dinard at 1615 and were later seen on radar north of Morlaix. Air Operational Watch also recorded an evening reconnaissance over the Isle of Wight.
23–24 April
Today's destination for NAG 13 was the sea area off West Cornwall, two aircraft leaving Dinard at 1445. The British tracked them 50 km south of Start Point from 1550, inferring that they may have made an intermediate landing at Lannion or Morlaix. An attempt by 4. (F)/123 to cover Portsmouth was broken off in mid-Channel.
The Seekriegsleitung meeting on the 24th concluded that:
All reports and assessments indicate clearly that the enemy's preparations for the invasion are as good as concluded. Intelligence as to the place and time is contradictory, such that a clear picture still cannot be discerned … Intensive aerial reconnaissance, above all over the English harbours, can bring greater clarity here.
25 April

On 25 April, our Luftwaffe reconnoitred the harbours of Southern England. In the roadsteads of Portsmouth - Spithead, according to visual observation, 264 vessels. Among these a group of 44 steamers of 1500–2000 GRT was captured in photographs. Further photo-reconnaissance yielded numerous landing vessels in the Portsmouth area …
137 of our bombers were sent against the assemblies of shipping round Portsmouth. Damage assessment not possible owing to smoke screen. 5 losses.
Seekriegsleitung, 25 April
Flying resumed on the 25th after a day when no activity had been identified. Early in the morning radio traffic was heard from an aircraft in the Portsmouth area and before returning to Le Havre, this Bf 109 (probably from 4.(F)/123) was to sight a huge mass of shipping at anchor between the mainland and the Isle of Wight:
P/R Portsmouth, Southampton, Cowes … Task carried out [0605–0617 GMT] Visual recce east of Selsey, warships 5,000 to 10,000 tons. In harbour area east of Portsmouth 100 units all of uniform type. [At 0635 GMT] defence [by] one Staffel [of] Typhoons.
Result: 100 ships all of uniform type south west of Portsmouth; 120 units all of uniform type west of Cowes; 2 battleships, 3 destroyers, course north east in [the western Solent]. Airfield occupation not observed …
Two more Bf 109s took off at 0636 hours. Cloud thwarted photography from 8000 metres but two groups of ships were seen underway, and in Portsmouth Harbour itself at 0715 were six ships of more than 5,000 tons each. Four hostile fighters were seen climbing to intercept but the Germans were as high as 9000 m. For the next 18 minutes radar stations in France reported "several Rotten" of defenders trying to intercept.
The day's mission to Portsmouth seems to have passed into legend among reconnaissance pilots as Obltn. Andreas Mihaelec of 3./NAG 14 (whose Staffel had been in Germany at the time) later gave this dramatised account to fellow prisoners in mid-July: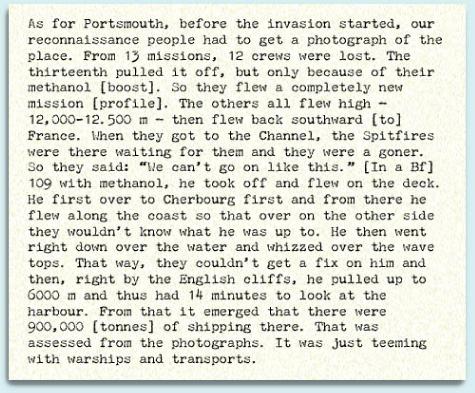 NOTE: The above is my translation of the German-language transcript, not the English version made by Combined Services Detailed Interrogation Centre (CSDIC) at the time.
continued on next page …