On 13 April the Staffel's Fw. Josef Riede was awarded the Iron Cross Second Class by General Martin Fiebig, commanding X. Fliegerkorps (the newly-installed successor to Fliegerführer Atlantik) On the night of the 17/18th, He 111 9U+CB was due to take off at 1930 from Mérignac, crossed the coast at 1945 and should have returned between 0330 and 0430 GMT; its intended route was to take it out over the Bay to a point 675 km west of Lorient. The Y-Service deduced that it was working with German destroyers (Z23 and ZH1 had been told that it was in the air) and that at least two aircraft took part. 9U+CB was called without success from 2228–0132 and 9U+BB likewise from 2220–2315. At 0102 it was announced that a Do 24 had just taken off on a sea rescue operation n the northern part of Grid Square 14 West; two minutes later the Navy was told that an He 111 operation was "no longer to be be expected." At 0100 on the 18th a Do 24 (almost certainly from Seenotstaffel 1) took off on a rescue mission to a point 55 km west of Royan and four minutes later Naval authorities were warned that they should no longer expect a Heinkel to return over the coast. At 0500 the search was joined by four of 2./ZG 1's Ju 88s from Vannes.
NOTE: The reference to a destroyer operation may correspond with an entry in the Admiralty's War Diary for 17 April that at 0818 GMT, seven German destroyers had been sighted about 120 miles (193 km) WSW St. Nazaire, steering 060º.
The Y-Service's report of the night's activities refers to two aircraft of "Special Recce Schwarm KG 40" under the control of Bordeaux, Rennes and two other stations not located; traffic from the ground was heard between 2208 and 0558 while the "Remarks" column merely states "Undisclosed operation. The aircraft were not heard."
Meanwhile, in the Mediterranean, the crews of II./KG 76 had been practising homing on ships with FuG 200 »Hohentwiel«, finding that the system's transmissions rendered Toulon's Flak radars "entirely useless". (Something learned from prisoners taken following a convoy attack in April). Sets had been modified in the light of this fortuitous discovery by adding a switch beneath and to the right of the display unit: one position selected the normal search function, the other jamming. In the latter mode, nothing showed on the display when set to the 15 km range but at 150 km a series of bright "saturated" pulses appeared on either side of the central trace, moving slowly down the base line.
The 4. Staffel of Fernaufklärungsgruppe 5 was renamed from Horch- und Störstaffel 2 pursuant to an order of 8 May and with 1 June as the completion date. General Fiebig had elements of many different units under his command—including Stab, 1. and 2./FAGr. 5—and may have been trying to rationalise their organisation. Siegfried Rastedter himself was transferred on 17 May to a post in the Luftwaffe Signals Schools organisation. The new Staffel was commanded by a Hptm. Kunz and its existence first became known to the Allies from an otherwise unremarkable administrative memo dated 21 May. Four days after that, an He 111 of the new Staffel was due to take off from Nantes at 2030 GMT and return eight hours later. The British Admiralty saw a probable connection between this flight and a badly damaged U-boat heading for port: attacked by a Liberator and unable to dive, U-736 had nevertheless shot down a Wellington of No. 612 Squadron. It was escorted into Lorient by five minesweepers, making port on the 26th after 57 days at sea.
Back in Germany, an aircraft of the High Frquency Research Establishment at Travemünde, carrying Rotterdam equipment, was due to take off at 11.00 GMT and fly at heights from 20–1000 m over the Baltic to Kiel and Fehmarn, returning about four hours later.
On the night of the 28/29th, 4./FAGr. 5 was to operate between 1950 and 0400 GMT but nothing was heard by the Y-Service. On 1 June an He 111 was to make a daylight training flight over the coast west of Bordeaux from 0616–0845; on the 2nd the night's operation by a single He 111 was to take place from 2000–0230. Two days after that the Staffel was told to co-ordinate its operations with 3.(F)/123 which flew security reconnaissances over Biscay with Ju 88 D and H-models. The intention that particular night was for an He 111 to cross out over Pointe du Raz on the Finistère Peninsula at 2105 and in at 0230. No wireless traffic was picked up to confirm that this intention was carried out, however.
Having begun May with no aircraft, during the month the unit would take on a repaired He 111 H-6 along with a Do 217E-4 and a Ju 188 F-1 from other units. During June a Ju 88 A-4 was added, also from repair, giving a final complement of:
| | | |
| --- | --- | --- |
| Do 217 E-4 | W.Nr. 4330, 9V+AM | Undergoing repairs to a damaged engine and radio gear on 17 July, with completion of the work expected within the week. |
| He 111 H-16 | W.Nr. 8308, 9V+DM | Under its factory code (DT+YI) this aircraft had served with H.u.S. St. 2 at least as far back as 15 February. Destroyed before it could be physically transferred to 6.(F)/123. |
| Ju 88 A-4 | W.Nr. 301573, DW+OE | Armed with 1 x MG 81, 1 x MG 81Z, 2 x MG 131 and 1 x MG FF. Ferried to 6.(F)/123 on 12 July but absent from that formation's surviving strength returns for later dates. |
| Ju 188 F-1 | W.Nr. 260251, 9V+EM | In Werneuchen being fitted out with special wireless equipment at the time of its transfer to 6.(F)/123 and expected to be ready for ferrying on 19 or 20 July. |
Intercepted signals indicated that 4./FAGr. 5 was non-operational by 20 June. Nevertheless, it submitted another strength return at 1430 hrs. on 6 July:
Crews 9 (3)
Aircraft Ju 88, He 111, Do 217 and Ju 188
The Ju 188 was still in Werneuchen; one crew was sick and two were detached.
Strength in personnel four days later was 103, among them were these 48 aircrew:
| | | | |
| --- | --- | --- | --- |
| Pilots | 8 | | (inc. 1 officer) |
| Observers | 8 | | (inc. 3 officers) |
| Wireless Operators | 14 | | |
| Wireless Operator/Mechanics | 13 | | |
| Schnarrfunker | 5 | | |
This last specialism offers a clue to one part of the Staffel's role: »schnarren« translates as "to buzz" or "to clatter", suggesting the transmission of noise. Another 10 wireless operators were to be found among the ground echelon, indicating that there was rather more radio gear to service than four "normal" aircraft might have. An earlier strength return had listed four on-board wireless operators, three flight mechanics and an air gunner as "not belonging to crews" so the overall numbers point to the Staffel mustering eight formed crews of five, each consisting of a pilot, observer, gunner and two wireless operators (as carried by the Kommando Rastedter Ju 188 which had gone missing the previous December).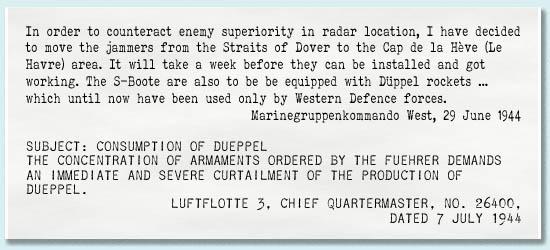 On 11 July, 4./FAGr. 5 already was in the process of dissolution: its serviceable aircraft (with the exception of the He 111) were due to be ferried away that day and contingents of personnel were to follow over the course of three days; any special equipment that could not be taken in the planes was to be conveyed by land. This information was sent to 6.(F)/123, the intended recipient. Early on the morning of the 12th, the Heinkel was burned out when Lightnings strafed the landing ground at Varades, 50 km NE of Nantes aerodrome. That afternoon the Staffel reported a strength of 6 (1) crews; two had already been transferred to 6.(F)/123, three were detached and another was sick. Equipment now consisted of just the one Do 217, with damage to its engine and radio equipment. Ju 88, W.Nr. 301573 had been ferried to 6.(F)/123 while Ju 188 W.Nr. 260251 was in Werneuchen for the installation of "special apparatus". This aerodrome was home to a trials establishment specialising in radar matters.
continued on next page …