As related by captured aircrew from 2./KG 40, an He 111 was based in Bordeaux-Mérignac from June, "engaged in observing Allied wireless traffic" and operating under the direct control of the RLM (Air Ministry). It flew once every two or three days, normally taking off between 0700 and 0800; patrols lasted about eight hours and extended as far as 10º W. The Heinkel's crew was seconded from KG 40, the pilot being Ofw. Schlittenheim. It also carried a specialist brought in from the Rechlin experimental establishment, presumably to operate the monitoring gear. At the end of July (when the prisoners were shot down) a Ju 88 was also available for monitoring work but had not yet operated but Schlittenheim was said to be hopeful of taking it over or close to England. Two more crews were expected to join the detachment and it was rumoured that a Fw 200 would be employed for long-range listening sorties. The prisoners also passed on German suspicions that the Allies were themselves mounting eavesdropping missions over the Bay.
From the night of 5/6 July onward, traffic was picked up disclosing overnight maritime surveillance (Überwachungsflug in German messages) by radar-carrying Fw 200s of KG 40. It certainly made sense for the Germans to be watching Biscay by night as well as by day, for the safety of U-boats on passage as well as their own surface units. Among the aircraft whose signals were picked up was "D", factory marking CE+IO (Fw 200 C-4, W.Nr. 0150). On the night of the 15/16th, aircraft "A" was active west of La Rochelle after taking off at midnight but turned back inside the hour after reporting — in plain language, because it had no code book aboard — a defective "HTL" (Hohentwiel radar). A nine-hour sortie from 1945 on the 20th was attributed to III./KG 40 however. Shorter night flights with radar also took place, some attributed to exercises.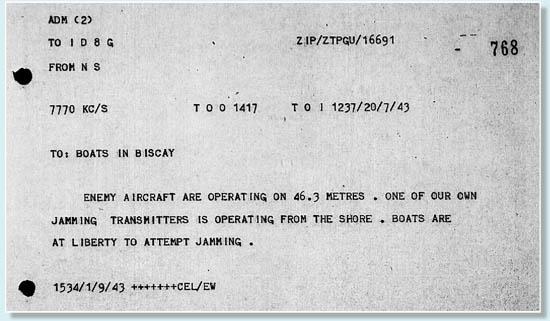 There was an "A.S.V. Flight" by one aircraft on the night of 30/31 July, the machine being told in the early hours to land at Cognac rather than Bordeaux. When the first overnight operation by an He 111 was noted, on 31 July, it too was thought to involve Air-to-Surface-Vessel radar (times given are GMT + 2 hours):

NOTE: There are reasons to doubt that the pencilled-in code belonged to an He 111. On 29 July, F8+AD reported probable damage to a 7,000 ton merchant vessel during an attack by ten Fw 200 on convoys SL 133 and MKS 18; the same machine called base about engine trouble at 0930 GMT and was expecting to land at 1230. Early in the morning of 31 July, it was reported as an Fw 200, in contact with Bordeaux and told to land at Cognac. A British Intelligence report summing up the night's operations read: "The aircraft was stated in a naval circular to be an He 111, and was probably F8+AD", with a pencil line through those last four words.
Finally, Chris Goss has published photographic evidence that in August 1943 F8+AD was Fw 200 C-6, W.Nr. 0218.
At the end of July, the submarines were directed to make only sparing use of "Metox" for fear that Allied aircraft were homing on its emissions. An inspired piece of misinformation from a prisoner "confirmed" this suspicion and by 12 August boats had been told to stop using it altogether. However U-161, the first with the new "Hagenuk" warning receiver, had sailed four days earlier and the device had worked perfectly all the way across Biscay:

NOTE: The new device was variously known as »Hagenuk-Gerät« (after its manufacturer), FuMB-10 and "Wanze." This last was both a contraction of Wellenanzeiger (wave indicator) and the German word for "bedbug."
On 13 August an He 111 was to leave Bordeaux at 2000, cross the coast 10 minutes later, return north of Cap Ferret at 0350 and land at 0400. Meanwhile, an Fw 200 was to take off from the same aerodrome at 2015 and fly south along the coast for 100 km, dropping flares from 4000 m before returning home at 2300. Two machines were again active on the night of the 16/17th, one giving an estimated landing time of 0300 and the other "evidently returning in the early hours." Presumably on the basis of call signs, the first of these was thought to be the Heinkel from three nights previously while the second was F8+AD (Fw 200 C-6, W.Nr. 0218) of Stab III./KG 40. The night of the 19th brought another Fw 200 flare-dropping sortie, over the bay off Arcachon and lasting two hours; the aircraft on this occasion was thought to be TA+ME (Fw 200 C-5, W.Nr. 203).
It was 24 August before another planned He 111 flight was announced, leaving Bordeaux at 2040 and returning north of Cap Ferret just over three hours later. At just over three hours, this was an unusually short sortie and, as was so often the case, no W/T traffic was intercepted to confirm that it took place. An operation six nights later was due to begin at 2100 and the He 111 contacted control, apparently preparatory to landing, at 0540. This was described by Bletchley Park's Naval Section as "ASV flight by III./KG 40, Bordeaux with 1 He 111."
continued on next page …