On the 11th two missions to the Nijmegen – Eindhoven – Maastricht area were aborted by bad weather. In 4U+JH, Ltn. Viergutz, took off at 09.22 but had to make an emergency landing in Twente on account of an engine fire; he was unhurt. At 11.05, 4U+EH was up landing just under an hour later, unable to achieve anything because of the bad weather.
For the day's other operation, Hptm. Felde flew to Hull and the Humber Estuary during the morning but on the return leg was pursued through cloud by RAF Tempests and shot down and killed over Rheine by S/L David Fairbanks, CO of No. 274 Squadron, who had stalked the Arado in its blindspot: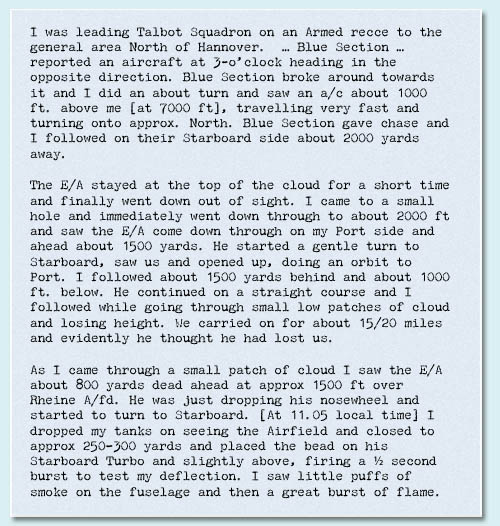 NOTE: Felde's Arado was 4U+DH and its Werk Nummer is generally given as 140149 (possibly an error since 1.(F)/100 attributed the same number to its T5+AH a month later). To confuse matters further, the Quartermaster General listed the loss of W.Nr. 140459 on 10 February, linking this to Felde's loss, supposedly the same day. Whether 140459 was also lost is unclear although it was mentioned in a signal on 20 March about a batch of Ar 234s with a non-standard altimeter installed.
Three aircraft in a row had now been lost at Rheine airfield to RCAF pilots (although Fairbanks was American by birth) and none had been identified as an Ar 234. Also that day, FH bcame unserviceable and would remain so for four weeks.
The evening of 13 February saw the last appearance of W.Nr. 140464 in 1.(F)/123's strength returns, the aircraft becoming T5+EH with 1.(F)/100. The evening report from Luftwaffenkommando West refers to a weather flight over Southern Holland and Belgium by an "Me 262" of FAG 123. So far as is known there were no reconnaissance Me 262s with the unit or in a position to cover the area concerned at this time, while these reports did sometimes confuse their jet types.
The following morning saw two Ar 234s airborne within four minutes of one another:
08.17–09.32

Obltn. Krüpe in 4U+EH undertook a successful P/R of Weert – Eindhoven – Hertogenbosch.

08.21–09.27

Obltn. Muffey in T9+HH was also successful in his mission, a P/R of Nijmegen – Volkel – Venlo – Maastricht – Roermond – Venlo – Nijmegen.

A third sortie was flown that afternoon:

13.18–14.37

Obltn. Planck in 4U+EH carried out a P/R of Arnhem – Nijmegen – Grave – ? – Eindhoven – Neerpelt – Hasselt – Maastricht – Maesyck – Weert – Deurne – Rheine, encountering 3–6/10 cloud in the target area.
The continuing presence of Muffey and his regular aircraft is noteworthy and orders issued on the 15th suggested that his fellow Sperling pilots were still present also.
On 16 February Luftwaffenkommando West directed Kdo. Götz to prepare for transfer "with personnel and equipment but without aircraft. 1.(F)/123 will, unassisted, take over the former tasks of Kdo. Götz." This marked a period of uncertainty over who should establish an Ar 234 reconnaissance Kommando in Italy and next day Götz was told to transfer his unit immediately. He reported on the 19th that his handover to 1.(F)/123 was complete and that the whole Kommando would be ready to move on the 21st. There was an exchange of signals on the 20th asking whether or not Ltn. Gniesmer had arrived in Osoppo, Italy. [link] This shows that Gniesmer had been found again after going missing on 29 January and that if he had rejoined Sperling, he had been on detached duty again since then. In addition Götz asked Sommer if the latter agreed to a proposal that he (Sommer) should be attached to Kdo. Sperling. The 21st also brought a cryptic, fragmentary message thought to emanate from 1.(F)/123:
Call sign EH Egon here "B"
Whatever its precise meaning, this was the first indication the allies had received of the Staffel using the Egon guidance system. Next day two missions were flown:
| | |
| --- | --- |
| 08._0–09.55 | Ofw. Schiffals (4U+CH) obtained P/R strips of Nijmegen – Kleve – Venlo – Roermond – Düren – Schleiden. |
| 08.25–09.10 | Oblt. Krüpe (4U+EH) broke off his sortie owing to engine damage. |
Also on the 22nd, Horst Götz, by now promoted to Hauptmann, was posted from the Versuchsverband OKL to 1.(F)/123 as Staffelkapitän, taking the place of the late Felde.
On the 23rd, Obltn. Radau took off in 4U+BH at 13.55 hrs. and landed 100 minutes later, bad weather having precluded his obtaining any photos of the assigned target. Next day, he was up again at 07.20 in the same aircraft, photographing the Thames Estuary, Ramsgate, Dover, the Scheldt Estuary and Antwerp before touching down at 09.35 hrs. At 08.10–09.31 hrs. Obltn. Krüpe carried out a P/R of Venlo, Aachen and Hasselt in 4U+EH. On 28 February, an Ar 234 of 1.(F)/123 broke off its reconnaissance of the Humber Estuary at Hedon, 5 km east of Hull, owing to shortage of fuel. This machine was in the air from 1100–1310 (GMT + 1) with these results:
1203-1205 hrs. about 2 km North of Grimsby, 1 convoy consisting of 1 Liberty ship; 7000 tonnes, 16 large landing boats; 1 medium landing boat, 1 small landing boat, 3 patrol boats. Extent of the convoy approx 6 km. 3 Patrol boats eastward course.
Note: The above mission was brought to my attention by Chris Going who found it in a translated report in the files of RAF Bomber Command:
continued on next page …