What the British called "Fighter Detachment 1.(F)/128 — Brest" intended to send five Fw 190s out over the coast at 10.03 hrs., returning between 11.30 and noon. A second mission proposed for later in the morning was called off. Next day, four Fw 190s were due out at 09.48, bound for "14 West 891" on a flight due to last 90–120 minutes; another four were to set out at 14.08 hrs.
On the 4th the intention was for five aircraft to take off at 15.00 hrs. from "14 West 5967" (presumably Lanvéoc) and cross the coast at the customary point, "14 West 5959", three minutes later. Once again were due to return within 1½–2 hours. Effort increased the following day with two flights planned, each six strong, from 09.03 and 11.18 hrs. respectively. The first was to go as far as 15 West 8055 (in the Western Approaches), the second "to westward."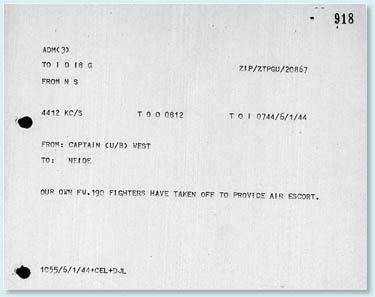 At 02.37 hrs., Halifax of No. 58 Sqn. dropped six depth charges on U-415 (Oblt. Herbert Werner) about 160 km SSW of Brest. The submarine fired back before diving but it had suffered damage and cover by Ju 88s was promised from first light. It is clear whether this materialsed but Fw 190s had taken off of 07.12 hrs. to assist the stricken boat. The Staffel flew more patrols during the day: by six Focke-Wulfs at 07.45 and four more at 13.33 hrs. This was the last that British codebreakers and radio monitors were to hear of 1./SAGr. 128 for more than three weeks.
Notice was given of two patrols on the 28th" by six Fw 190s from Brest-Lanvéoc at noon and by two more from the same airfield at 13.35 hrs. Next day five were to fly out at 07.15 hrs.
A message was sent to the Technical Officer of I./ZG 1 confirming that an Fw 190 G-3 (WNr. 160337) had been taken over from "G.A.F. Station (smudge) Land."
Note: British Intelligence understood the addressee to be I./ZG 1 and from a later message it seems likely that Lanvéoc in Brittany, the 10. Staffel's home, was the land station in question.
The Technical Officer of I./ZG 1 was told that a Fw 190 G-3 (WNr. 160821, "8") was being handed over to the Luftwaffe land aircraft workshop at Brest-South. At 10.27 hrs. the same day, "fighter detachment 1/128" reported that this aircraft had stalled while landing at Brest from an "air screening" sortie (presumably for naval forces). The Focke-Wulf had touched down violently and broken the diagonal bracing strut of its left oleo leg. Damage to the airframe was assessed at 8–10% and a replacement was "urgently necessary." Leutnant Heinz Bichler emerged uninjured, however. Presumably his aircraft had been one of the six that were up at 09.50 GMT for a flight to the West, although if so it returned earlier than originally intended.
Today's patrol was to take off at 10.35 hrs., fly to "14 West 58 and 68" and return within the usual timescale.
At 13.07 hours on 14 February, an Fw 190 (WNr. 1466, "+10") was coming in to land at Brest-South after bombing practice. Failure of an electrical circuit meant that its flaps would not come down and it landed at too high a speed. The aircraft itself was about 10% damaged—and again its replacement was urgently necessary—but pilot Ltn. Heinrich Greuner was unhurt.
A fact-finding group from the Luftwaffe's Head of Signals reported that 10./ZG 1 had four Fw 190 on this date.
continued on next page …