According to a captured Austrian mechanic, a convoy of lorries arrived at Lechfeld on 17 July 1944 and loaded up him and his comrades in 3./KG 51's ground echelon. After seven nights on the road they reached Châteaudun, about 110 km. south west of Paris, where they were employed in repairing bomb damage and other manual labour until mid-August. They then travelled the 200 km. by road to Creil (45 km. north west of the French capital) for more such work before being transferred 120 km. eastward to Juvincourt-et-Damary on the night of the 18/19th. Next morning, five Me 262s flew in and as the prisoner related, flew 4–5 sorties daily from then on. Two aircraft were said to have been lost: the first force-landing between its base and the front line (the pilot not being seen again), the other being wrecked in a landing accident after its nose wheel tyre burst.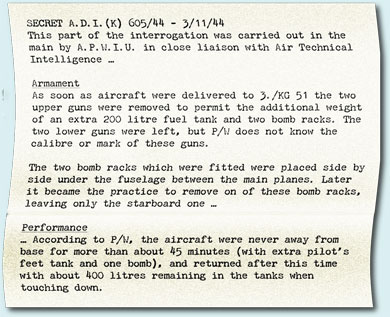 Here the Austrian's memory for dates definitely goes awry for he says that on the 23rd the Kommando moved to Chièvres and that one aircraft was lost en route to unknown causes. Deciphered signals reveal that the unit was due to relocate to the Belgian airfield on 29 August but did not in fact do so; on the other hand, one of its Me 262s was shot down over Belgium on the 28th.
The Me 262's arrival in France had been expected since the first days of the Invasion. On 9 June 1944, Luftflotte 3 asked Berlin what the type's operational requirements were and received a reply the following evening:
– a landing area 1500 x 400 metres with 50 m. reinforced strips on either side
– permanent taxi tracks of 12 m.
– minimum obstacle clearance of 1:70 (and 1:100 if possible)
– a "supplementary fuel installation" of 300 cbm which 100 cbm should be near the take-off point
The aircraft itself was said have a span of 13 m. and to be 12 m. long and 3 m. high.
Note: German documents frequently use the cubic metre (cbm) for fuel stocks — it equates to 1,000 litres or 227 Imperial gallons; otherwise they use metric tonnes (about 1.37 cbm).
On 8 July, Châteaudun was told to prepare for a special operation which would require stocking up with a special fuel as per the arrangements given above. This led the Allies to conclude that the Me 262 was involved. However on the 29th two 5-tonne lorries carrying T-Stoff and Z-Stoff fuel were ordered to the same airfield under armed escort. The servicing platoon involved had previously been involved with rocket-assisted torpedoes and the Hs 293.
On the 20th, I./KG 51 with 44 men was ordered to Lechfeld, a place British Intelligence already associated with the Me 262. As early as 30 July, Einsatzkommando KG 51 reported that its wireless station was at Châteaudun but the signal did not say anything about the presence or otherwise of aircraft. By 9 August, orders were being given to the airfield command at Châteaudun that either Juvincourt or Coulommiers was to be stocked with J2, and that the latter was viewed as a rear airfield. Creil also was to receive only what was operationally necessary, and would be the new destination for a group of tanker lorries carrying 100 cbm of J2 previously intended for Montdidier and Rosières-en-Santerre. On the same day, Luftgau Westfrankreich (West France) was told that all questions about the deployment of the Me 262 must be raised with the General der Kampfflieger. (Allied Intelligence commented that every previous reference but one to the type had been about reconnaissance).
The translated Luftflotte 3 daily reports for July (National Archives AIR 20/7703) do not mention any Me 262 operations and nor do they indicate the type's arrival in France. The reports for August are in a different format and so no conclusions can be drawn from them but by September Me 262 missions are being recorded regularly.
On 15 August, OKL corrected data given out six days earlier to Luftflotte 3 about an unspecified aircraft, which the Allies were clear was the Me 262: speed with empty bomb racks at 2500 m. was 795 km/h while its required landing area was 2000 m.
During the evening of the 19th, Luftflotte 3 ordered Creil aerodrome to be cleared of unneeded fuel and ammunition, and supplies for the Me 262 were to be sent straightaway to Coulommiers or Juvincourt, as the situation on the ground demanded (the latter was about 90 km. north east of the former, so at less immediate risk from the Allied advance).
On 21 August, IX. Fliegerkorps reported that an unspecified airfield was suitable for operations and stocked with sufficient J2 for 17 missions. The distances between the aircraft dispersals and personnel quarters were a drawback however and Flak protection was confined to a single battery of 2 cm. guns. Fuel bowsers and tractors had been requested from the Aerodrome Regional Command at Laon (which, taken with subsequent developments, suggests that Juvinvourt was the base in question).
Luftflotte 3's and Jagdkorps II's reports of their operations on 22 August (against Allied crossings over the Seine) do not mention any involvement by Me 262s.
At 15.00 hrs. on 23 August, it was announced that a Luftwaffe equipment depot with Me 262 parts was being dispatched to Creil, 45 km NNE of Paris. This was pursuant to an order given by Luftgau West France the previous day and brought the spares into the sphere of its neighbour, Luftgau Belgium/North France.
continued on next page…