Loreto's Basilico della Santa Casa had been a destination for pilgrims since the Middle Ages and the damge it suffered when NSG 9 bombed the town brought condemnation on religious and cultural grounds. As so often in war (and propaganda) much of the reaction assumed that that whatever was hit must be the intended target. Whatever the intentions of their commanders, NSG 9 believed that they were attacking a Polish HQ and lines of communication.
According to Massimo Coltirnari's Il Corpo Italiano di Liberazione e Ancona (Edizione nuova Cultura, Roma 2014), the first indications of a raid came at 21.30 [local time] when German aircraft flew down the Adriatic coast, dropping incendiary bombs on the railway station and along the Scala Santa. The dome of the basilica was hit at 23.00, going up in flames. Fanned by the wind, the fire ignited supporting timbers and melted the lead roofing. The Germans had blown up an aqueduct some weeks earlier, water supplies were inadequate and improvised pumps were not up to the job of fighting the fires. In a second attack, at 03.45, a bomb tearing a large hole in the base of the dome.
A British soldier, Bernard Welburn, recalled:
… a tremendous roar … the Germans had bombed an Allied ammunition depot near the railway station. The populace, believing that with the liberation this kind of thing was in the past, took to basements and cellars. Incendiaries fell on the Basilica, in the square of the Sanctuary and the elementary school. There were a dozen civilian and military fatalities. In the second raid, a German plane was hit and according to some witnesses crashed on the slopes of Monte Conero. Serious damage ensued when a bomb hit the Sanctuary of Our Lady, and in particular the Dome of Sangallo, at 03.45 hrs. A fresco by Cesare Maccari was destroyed and there was severe damage to the altar of the Chapel of Seiz (dedicated, ironically, to Germany) … The raid lasted five hours.
On the 15th, the UN Psychological Warfare Branch in Rome put out a statement: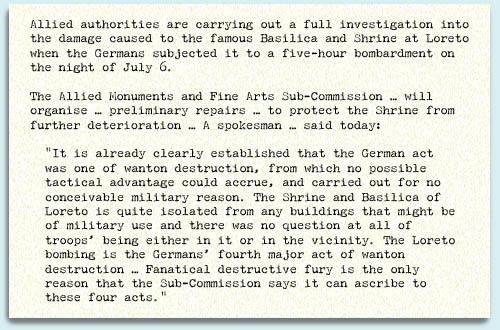 On 21 July, the Catholic Herald relayed a report from the Osservatore Romano: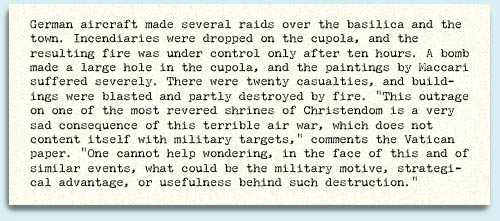 A 1945 British Government publication about works of art in enemy hands described how: