Our air-landing troops have dug in in La Mure-Vassieux against a powerful foe. Munitions and supplies successfully brought up..
Luftflotte 3 (midnight, 23 July 1944
On the 23rd Geschwader Bongart supported the 157. Reserve Division with 63 sorties in 26 bombing and strafing missions "with good results." Forty-nine aircraft dropped 10 tonnes of high-explosive bombs. Individual aircraft brought supplies to Kampfgruppe Schäfer and evacuated its wounded. Sheltering in a hole at Vassieux that morning, "Calva" clearly heard (but was unable to see) an aircraft land on the Vassieux strip and take off again after 20 minutes on the ground. Judging from the engine noise it was a small machine and several more of the same type were to follow at five-minute intervals. Individual aircraft flew supply missions and evacuated casualties from Vassieux that day: for example the Lyon police and security chief (KdS), SS-Obersturmbannführer Werner Knab was flown out in a Fi 156, other wounded men in a Ju 52.
NOTE: According to Peter Lieb, Knab had been aboard one of the assault gliders, apparently with a view to directing reprisals, and had been wounded on the first day.
Also, according to Jafü Süd, two Bf 109 Rotten from JGr. 200 flew reconnaissance over "guerilla territory" whereas Luftflotte 3 reported that six aircraft flew anti-partisan missions with bombs (more probably mortars) and guns but without any observed results.
24 July
In Southeastern France, in an area heavily infested by gangs, 268 terrorists were killed in battle.
Das Keine Blatt, Vienna, 24 July 1944
Our operations in the Vercors area … proceeding according to plan. Our airborne trops, supported by the Luftwaffe, had reached Vassieux-Mure … in hard fighting against numerically superior foe. Attack progressing against enemy standing to fight.
Luftflotte 3 (midnight, 24 July1944)
Just 14 Bongart machines took the offensive—with 3 t of bombs—while six more dropped supplies and evacuated German wounded. (Large quantities of parachute supply containers were later found by the Allies in farm buildings near Valence aerodrome). This is corroborated by a message from Bongart to Luftflotte 3's Operations Officer at 11.15 GMT:
Communication with Battle Group [Kampfgruppe] Schäfer established by infantry troops pushing forward from the South. From this evening it will be possible for Ju 52 to land at Vassieux. The enemy is retiring toward the North. Battle Group Schäfer is following.
NOTE: Thomas & Ketley, page 121, include a photo of a Ju 52 at Vassieux and these aircraft are understood to have evacuated German casualties.
Early that morning the Maquis had heard the aeroplanes returning, apparently large ones if their engine noise was a guide. Then small machines again began landing and taking off at Vassieux. In the afternoon a single large plane was heard by Résistants who were retreating from the Vercors.
Once a link-up with the airborne forces had been accomplished, orders were given for I./Luftlandegeschwader 1 (to which the DFS 230s and their Do 17 tugs belonged) to be withdrawn: a Ltn. Flamm (apparently at Clermont-Ferrand) was told at 13.30 hrs. to move that day, as soon as the weather permitted, to Nancy with all aircraft and material. He was to report completion to "Battle HQ Lyon." It may be relevant that Lyon was the location of a parachute school, Fallschirmschule I. Three days later (i.e. 27 July) a signal was addressed to an Obltn. Menken care of Air Movements Control at either Valence or Lyon. He was informed that 1./LLG 1 had been ordered by "the Gruppe" to return to Nancy with its Do 17s that day at the latest.
Bongart's sharply reduced sortie rate was probably attributable to a major Allied raid on Valence-La Trésorerie. Sixty B-24s came over in three waves, between 09.45 and 10.00 hrs. What the Germans described as a "bomb carpet" fell mainly on the edge of the aerodrome, destroying one or two Ju 88 (reports differ) and two Re. 2002 while a Bf 108, a Fi 156 and 15 Ju 88s (probably from II./KG 26) were reported damaged.
NOTE: Luftflotte 3 gave an onverall total of eight aircraft destroyed and 20 badly damaged in the day's raids on Valence and St. Martin-de-Craux. Aside from the cost in men and equipment the latter attack left two Ju 88 destroyed along with less than 50% damage to five Ju 88, three Ju 188 and three Me 410.
It was likely that the damage to installations and facilities, rendering the airfield unserviceable, hamstrung the Geschwader that day. The loss of two of its fighter-bombers was a further albeit lesser setback.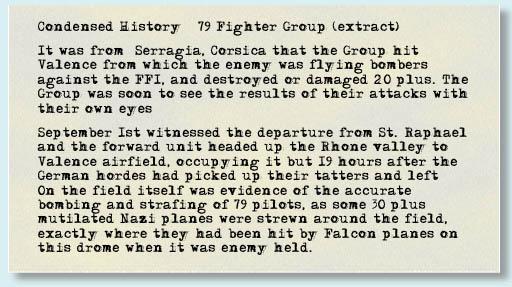 NOTE: The remains of three Re. 2002 were documented at Valence by a MAAF Field Intelligence Unit (see Appendix).
Based away from the Allied bombardments, Jagdgruppe 200 was able to fly "gang operations" from Avignon and one of its Messerschmitts may have been responsible for shooting up a Maquis column retreating off the northern side of the plateau.
Ωcontinued on next page …