According to French reports, the resistance movement is stated to be preparing for total mobilisation on 15/8.
Marine Gruppenkommando West (7 August 1944)
A Bongart Ju 88 supporting LXVI. Korps (based in Clermont-Ferrand) destroyed a farm supposedly occupied by "terrorists" and two motor vehicles. Five Re. 2002 were dispatched to attack a village reported as "Cobicr", east of Lyon (possibly one of two Le Corbiers between that city and the Swiss border) and also said to be occupied by terrorists. Their attack blew up an ammunition dump, destroyed 10 houses and damaged five lorries. It appears that during the evening, Ugine in Savoie was also bombed and German bombing killed three civilians in Marcols-les-Eaux, 47 km WSW of La Trésorerie.
During a physical training session in the countryside the « Compagnie André » of the Morvan Maquis heard aircraft engines and saw "six Stukas" orbiting their camp. Hubert Cloise described them diving on their target with sirens howling, each releasing a large bomb and following up with 20 mm cannon fire. The Germans were tought to be aiming for the group's vehicle park but did no more than damage a few which were readily repairable and no one was hurt. A further attack came late in the afternoon, against installations dispersed in the woods.
NOTE: Whether these "Stukas" were in fact Ju 87s is doubtful. The only such aircraft in France at the time of the invasion had been those of II./SG 103 at Metz-Frescaty and an attempt to intervene on 6 June had resulted in the loss of four destroyed and five damaged, without reaching the beach head. The Gruppe is not known to have flown any more operations.
8 August
The Geschwader reported a strength of 32 (14) fighter-bombers (in all probability its Re. 2002s) with 54 (24) crews and 18 (4) bombers with 16 (7) crews. Previous returns suggest that this was not a full accounting since no observation or liaison aircraft are included.
Six Re. 2002 were operating from 04.50–06.37 hrs. having been assigned two targets: a depot "south of Chatellus and north of Lormes" was to be bombed and strafed; and a hutted camp "south east of Ouroux, 65 km NE of Nevers" was to be shot up. If these were the directions given it is not surprising that neither target was located — while Lormes is there on the map (about 60 km north east of Nevers) I have yet to identify "Chatellus"; Ouroux-en-Morvan is more like 85 km ENE of Nevers. The Reggianes did find 60–80 vehicles assembled 2 km south east of Ouroux which were "for the greater part destroyed" with 5 x 200 kg and 1 x 250 kg bombs plus 1,300 rounds of 12.7 mm and 750 rounds of 7.7. mm ammunition. (Both Maquis and British Special Air Service units were based around the village).
Another five Re. 2002 were up between 06.00 and 06.55 hrs. to bomb "Nivellet" (which Bletchley Park could not place). They attacked stationary lorries with 5 x 200 kg and 4 x 50 kg bombs, expending 800 x 12.7 mm and 5 x 7.7 mm rounds. The actual location was Nivollet-Montgriffon (about 50 km north east of Lyon) and nine people were killed in the attack. A lone Go 145 was dispatched on a reconnaissance west and south west of Menat (about 40 km NNW of Clermont-Ferrand) from 13.15–14.40 hours. Due west of the village were well-camouflaged lorries and cars parked near farms and it was surmised that there must be camps in the woods nearby. Two lorries "loaded with terrorists" were seen on the road between Manzat and Riom, their occupants taking cover and opening rifle fire when the Gotha approached.
The day's other mission supposedly lasted almost nine hours (22.00–06.45) but if these times are correct it would not only be remarkably long but also the only known night operation by Geschwader Bongart. A Ju 88 carried out an armed reconnaissance of the areas of Lempdes and Plomb du Candal, south and south west of Clermont-Ferrand. No troops or vehicles were seen and so the Junkers attacked an alternative target — a wood about 25 km south east of Clermont and 1 km west of Sallèdes — with 2 x AB 50 and 10 x 50 kg bombs. The nearby village of Vic-le-Comte was seen to be occupied by troops but a gap in the intercept leaves it uncertain whether these were friendly.
The LXVI. Korps, operating operating that day around Issoire, south of Clermont-Ferrand, destroyed a small guerilla depot, seizing three machine guns, handguns and three vehicles but casualties inflicted on the enemy could not be ascertained. Further west, along the roads between Châteauroux, Limoges and Brive-La-Gaillarde, five groups on foot or in vehicles had been ambushed and 10 people killed. German losses were four dead and 12 wounded.
NOTE: Brive was the base of a number of Resistance and Special Forces units. The town was declared liberated by the Limousin Maquis on 15 August.
9 August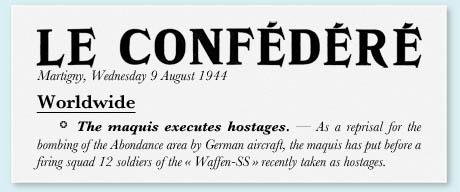 Oberst Bongart signalled: that the Stab of his III. Gruppe was to relocate to Saint-Yan (100 km. north east of Clermont-Ferrand) with the 7. and 8. Staffeln; that the Geschwaderstab and 13. Staffel's new base would be Lyon-Bron; and that an advanced party of the 10. Staffel had arrived in Avord (apparently without aircraft) from nearby Bourges.
The reason for these moves is not given but the American break-out from Normandy threatening central France (Le Mans had been liberated the previous day) may have been a factor. On 12 August however, Luftflotte 3 confirmed the moves to Saint-Yan but countermanded the one to Lyon.
Three days earlier, the Maquis had attacked the garrison of Bourg-Saint-Maurice which had retreated to the Italian border. Now there came a desperate message:
I am surrounded on the Little Saint Bernard Pass with 300 Gebirgsjäger [Mountain Infantry] and two Frontier Guard detachments. If we are not relieved by 18.00 hrs. surrender is unavoidable.
The Military Commander for South France told his superiors that Geschwader Bongart had been informed, and asking them to lay on Luftwaffe support and keep him posted. In the event, ground ground troops from Italy came to the rescue and it is not clear whether any air support was provided.
In a hedge-bordered field near Ouroux-en-Morvan, the Maquis Bernard had parked 86 vehicles, were powered variously by wood gas (gazogène), shale gas and wood alcohol. This inviting target was bombed during the morning and again that evening.
Philippe Canonne's photo of the sign at the site of the Maquis vehicle park, Ouroux-en-Morvan bombed by the Luftwaffe on 9 (twice) and 20 August 1944.
continued on next page …