Taken to task by Luftflotte 3 for an alleged violation of Swiss airspace, the Geschwader responded that four Re. 2002 had been dispatched at 14.45 on the 6th to bomb Abondance, a guerilla-held village 10 km west of the frontier, and had landed at 16.10 hrs. They had found the weather far from ideal, 8/10 cloud with its base base at 1500 m, rain showers, mist and 5 km visibility. Nevertheless, the Schwarmführer, Obltn. Higgelke, was adamant that there had been no navigational error and a French source attests that Abondance and nearby La Vacheresse were indeed bombed that day. This made little difference to the military situation: 11 days later in Australia, the Melbourne Argus published a syndicated report from reporter Edward Ashwick: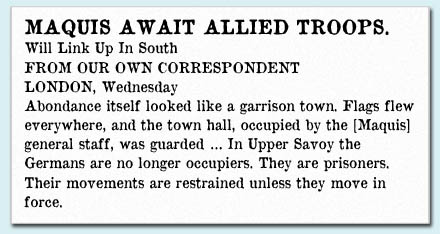 Despite Oberleutnant Higgelke's protestations, a village 1.5 km beyond the frontier had been hit, as described in this Swiss communiqué:
On Sunday afternoon as the peaceable population of Morgins was enjoying its Sunday rest, three German aeroplanes — two fighters and a bomber approaching from the Abondance Valley — suddenly apeared over the village at 15.25 [local]. After turning at very low altitude, the bomber dropped a bomb in a dive. [This] fell close to the church, all of whose windows were shattered. The Hotel du Sapin had all its windows broken and the facade of a chalet was damaged.
… the planes came back over the village and the bomber released a second bomb on a chalet housing the soldiers' hostel … [it] was pulverised, but fortunately no one was inside. The fighters then fired several machine gun bursts before the three aircraft turned back in the direction of the Abondance Valley, where they dropped bombs.
The toll in Morgins is 20 injured, among them two soldiers and some children.
The following day, Le Confédéré, a newspaper based in the nearby town of Martigny, reported on events in both Morgins and Abondance. Regarding the latter:
On Sunday evening at 19,15 [local] the German machines flew back up the Abondance Valley once again, coming to drop more bombs on the little hamlet of Vacheresse. The bombs dropped on Abondance wounded two people, while two other people injured in Vacheresse were brought to Morgins for treatment there. It appears that the German planes were taking part on an operation against the troops of the FFI based high up the Abondnace Valley.
The Wednesday edition of the same paper carried an eyewitness account from Madame Blanche Deslarzes, manageress of the Pension des Sapins in Morgins. She related how, "With the three planes appearing in the sky, the local inhabitants did what everyone does in the absence of warnings or alerts: they went outside to take a look at them …"
7 August
A Bongart Ju 88 supporting LXVI. Korps destroyed a farm supposedly occupied by "terrorists" and two motor vehicles. Five Re. 2002 were dispatched to attack a village reported as "Cobicr", east of Lyon (possibly one of two Le Corbiers between that city and the Swiss border) and also said to be occupied by terrorists. Their attack blew up an ammunition dump, destroyed 10 houses and damaged five lorries. It appears that during the evening, Ugine in Savoie was also bombed and German bombing killed three civilians in Marcols-les-Eaux, 47 km WSW of La Trésorerie.
8 August
The Geschwader reported a strength of 32 (14) fighter-bombers (in all probability its Re. 2002s) with 54 (24) crews and 18 (4) bombers with 16 (7) crews. Previous returns suggest that this was not a full accounting since no observation or liaison aircraft are included.
Six Re. 2002 were operating from 04.50–06.37 hrs. having been assigned two targets: a depot "south of Chatellus and north of Lormes" was to be bombed and strafed; and a hutted camp "south east of Ouroux, 65 km NE of Nevers" was to be shot up. If these were the directions given it is not surprising that neither target was located — while Lormes is there on the map (about 60 km north east of Nevers) I have yet to identify "Chatellus"; Ouroux-en-Morvan is more like 85 km ENE of Nevers. The Reggianes did find 60–80 vehicles assembled 2 km south east of Ouroux which were "for the greater part destroyed" with 5 x 200 kg and 1 x 250 kg bombs plus 1,300 rounds of 12.7 mm and 750 rounds of 7.7. mm ammunition. (Both Maquis and British Special Air Service units were based around the village).
Another five Re. 2002 were up between 06.00 and 06.55 hrs. to bomb "Nivellet" (which Bletchley Park could not place). They attacked stationary lorries with 5 x 200 kg and 4 x 50 kg bombs, expending 800 x 12.7 mm and 5 x 7.7 mm rounds. The actual location was Nivollet-Montgriffon (about 50 km north east of Lyon) and nine people were killed in the attack. A lone Go 145 was dispatched on a reconnaissance west and south west of Menat (about 40 km NNW of Clermont-Ferrand) from 13.15–14.40 hours. Due west of the village were well-camouflaged lorries and cars parked near farms and it was surmised that there must be camps in the woods nearby. Two lorries "loaded with terrorists" were seen on the road between Manzat and Riom, their occupants taking cover and opening rifle fire when the Gotha approached.
The day's other mission supposedly lasted almost nine hours (22.00–06.45) but if these times are correct it would not only be remarkably long but also the only known night operation by Geschwader Bongart. A Ju 88 carried out an armed reconnaissance of the areas of Lempdes and Plomb du Candal, south and south west of Clermont-Ferrand. No troops or vehicles were seen and so the Junkers attacked an alternative target — a wood about 25 km south east of Clermont and 1 km west of Sallèdes — with 2 x AB 50 and 10 x 50 kg bombs. The nearby village of Vic-le-Comte was seen to be occupied by troops but a gap in the intercept leaves it uncertain whether these were friendly.
The LXVI. Korps, operating operating that day around Issoire, south of Clermont-Ferrand, destroyed a small guerilla depot, seizing three machine guns, handguns and three vehicles but casualties inflicted on the enemy could not be ascertained. Further west, along the roads between Châteauroux, Limoges and Brive-La-Gaillarde, five groups on foot or in vehicles had been ambushed and 10 people killed. German losses were four dead and 12 wounded.
NOTE: Brive was the base of a number of Resistance and Special Forces units. The town was declared liberated by the Limousin Maquis on 15 August.
continued on next page …