The Geschwader asked the Lufgau Engineer (covering Bourges?) urgently to allocate a workshop to fit a complete set of ETC 500 bomb racks for Bf 110 C-2, W.Nr. 3116. The Geschwader had two more Bf 110 for which no ETC tacks were so far available. It also requested the installation of missing parts of the built-in armament of these aircraft (which probably belonged to the 12. Staffel — see below). During the evening, 2./ZG 1 reported a strength of 5 (0) Ju 88s and 12 (3) crews with 9 of the latter detached.
No sorties were flown and the Geschwader signalled that it would be available for operations against guerillas from 16 July, implying that it was currently stood down for some reason. The German Army was on the move against the Maquis of the Jura region:
Treffenfeld [the name of a 17th Century general] will be carried out in spite of existing difficulties. If operations are limited to the bare essential there will be an additional [fuel requirement] on the allocation of which the carrying out of the operation depends. Request allocation.
The Wehrmacht situation report mentioned aircraft operating against guerillas "east of Lyon" but without offering further detail. Perhaps explaining JGr. 200's recent sorties in the area, Militärbefehlshaber Südfrankreich (Military Commander South France) advised that:
According to agents' reports a coordinated, well-organised and armed attack by Resistance forces from Drôme and Ardèche on Valence has been planned and must be taken seriously.
9 July
During the morning, the Geschwader's Operations Officer ordered a reconnaissance of the circuit Ussel – Meymac – St. Germain – Saint Perdou – Ussel. The results were to be dropped into the market place at Saint Flour (100 km south of Clermont-Ferrand) for Kampfgruppe Jesser, Additionally weather in the area was to be reported to Avord and an He 111 would take off at 14.40 hrs.
Late in the afternoon, nine Re. 2002 operated against "the guerilla forces" (east of Lyon according the Wehrmacht's report) and three other sorties were flown whose purpose is unknown. Also, that evening the IV. Gruppe reported on readiness for the following morning:
11. Staffel

12. Staffel

2./ZG 1

Aircraft

9

(4)

11

(6)

4

(0)

Crews

16

(8)

13

(11)

11

(2)
The 11. Staffel had: one Ju 88 serviceable for bombing and strafing; an He 111 and a Do 17, strafing only; and a Bf 108. The 12. Staffel had: two Bf 109 and three Bf 110 serviceable for strafing; an He 46; a W. 34; two Go 145 and two Bf 108. The 2./ZG 1 had 9 crews detached or sick; its Ju 88 C-6 W.Nr. 750972 was off strength as was Ofw. Leenberger who had been detached to Illesheim.
10–11 July
The IV./Fl.ZG 2 in Châteauroux was ordered to send an He 111 and crew to Lissay-Lochy at 04.00 hrs. for the Kommodore. The same Gruppe reported that at 07.15 hrs. Do 17 Z, W.Nr. 4065 had suffered 10% damage to its landing gear, wings and propeller while taxying. In response to a query of the previous day, Geschwader Bongart reported on the 10th to Luftflotte 3's Quartermaster, "35 Re. 2002 as fighter bombers." Since the unit flew only one sortie, this appears to have been a strength return for the III. Gruppe.
A major operation, Treffenfeld was underway against the Maquis of the Ain Département. Resistance fighters there had captured German plans for Treffenfeld which included the use of bombers and ground attack aircraft.
The Geschwader's 45 sorties on the 11th comprised weather, defensive and armed reconnaissance as well as attacks against Resistance fighters. One target was Villereversure, about 180 km ENE Clermont-Ferrand: at 11.30 GMT, "numerous planes" began shooting up the area around a children's home and sanatorium before the former was struck by a bomb (a second failed to explode) bringing down part of the building. The children were got out and they hid in nearby woods, listening as bullets struck the trees.
The the talk amongst the 11e Cuirassiers was of:
… the imminent arrival of commandos. People also tell us of the coming bombardment of the enemy airfield at Chabeuil [Valence]. The rumour goes around that we ourselves will attack [Valence] and destroy the planes on the ground with bazookas and support from a platoon from the 1er Battalion de Choc [Free French counterparts of the SAS] which is supposed to be parachuting into Vassieux.
A spotter pane is stooging around and may be taking photos of the landing ground.
12 July
In addition to weather and defensive reconnaissance flights, during the day 28 aircraft of the Bongart Geschwader and four aircraft of III./KG 100 carried out operations against the guerilla forces.
Luftflotte 3 daily situation report
Despite the supposed break from operations an Re. 2002 was up from 13.15–14.35 hrs. to reconnoitre the road from Cerdon to Nantua (about 75 km north east of Lyon), finding it free of the enemy. East of Nantua, the road to Bellegarde-sur-Valserine (close to the Swiss border) was "doubtfully in our possession." Nevertheless the pilot, Maj. Becker, located three lorries and destroyed them with gunfire, going on to "annihilate" guerillas ahead of a German infantry spearhead. In all he fired off 500 rounds of 12.7 mm ammunition. Towards noon, an aircraft is reported to have flown low over the Dortan area, dropping incendiary bombs on isolated hamlets and strafing people who had taken refuge in woodland. The German report says that four Re 2002 were checking the road between Montréal-la-Cluse and Dortan (Ain) from 1525–1630 and shot up a blocking position to the west, at Bonvent (La Chapelle-du-Châtelard). The Montréal–Dortan road passes through the town of Oyonnax (population c. 10,000).
NOTES: (1) Becker is described as Gruppenkommandeur, so may have been Oberstlt. Emil Becker who had been appointed Kommandeur of I./Fl.ZG 2 on 1 February 1944.
(2) German troops reported destroying every fifth house in Cerdon on 12 July. In Nantua they had freed 60 of their own soldiers and 150 Vichy Miliciens and Bellegarde was firmly in German hands. Some 109 "enemy" had been killed, 10 wounded and 77 captured.
Oyonnax (198 km ENE Clermont-Ferrand) was bombed and strafed by German aircraft on the 12th and again the next day, leading to serious damage and one death. This was later reported in the Swiss newspaper Nouvelliste valaisan: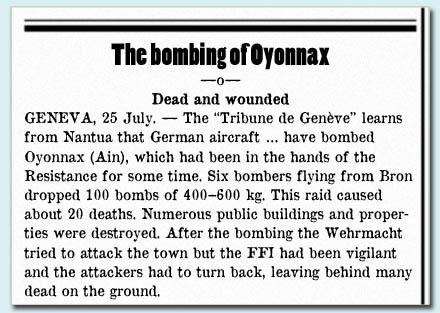 When later a Gazette de Lausanne reporter visited the town, he noted that: "one bomb fell in front of the church porch without damaging the holy place. On the way out of the village an area, said to be a landing ground, has been ploughed up by the bombs; an electricity plant has been burned at the same time as the neighbouring farms".
On the Vercors plateau that evening:
… we're overflown by a German plane which heads for La Chapelle … which it bombs and shoots up in a great many passes, causing one fatality and several wounded, one very serious who will not survive.
continued on next page …