1 July
From Valence, the local military administration, Verbindungsstab 998, advised "Schlachtgeschwader Bongarth" that the occupants of a crashed aircraft had been found and that it was necessary to bury them immediately. This almost certainly refers to one of the Ju 88s lost on 28 June (see above). Just after midday, the IV. Gruppe was told be at a ½ hour's readiness from 04.00 next day but at 15.00 hrs. the Nineteenth Army told the Geschwader that some unspecified operation had been called off.
No sorties were flown but once again efforts were being made to gather in scattered aircraft. The Geschwaderstab called for a W. 34 to take a spare pilot and wireless operator to fetch a Do 17 from Mondesir, stopping off at Bourges at 03.30 hrs. to pick up the Geschwader's Maj. Hippacher.
NOTE: This was probably Karl Hippacher who, as a Hauptmann, had been Führer of a Luftdienstkommando in December 1942.
From Châteauroux, the IV. Gruppe asked the Heinkel Works at Blagnac (near Toulouse) when He 111 CK+PV would be returning to the unit. This Heinkel, W.Nr. 5113, had been under repair since 24 June at least, after damage to an engine and its undercarriage. The Gruppe also enquired of Couvron's Air Movement Control when an He 111 E, W.Nr. 1349, would be ready; and sought information from AMC Biarritz about the expected availability of W. 34 Hi, W.Nr. 2822.
A strength return was submitted by the IV. Gruppe to the Geschwader's Operations Officer, part of which was intercepted:
11. Staffel

12. Staffel

2./ZG 1

Aircraft

10

(11)

?

(4)

10

(3)

Crews

17

(8)

15

(9)

9

(9)
The 11. Staffel had three Ju 88 serviceable for bombing and strafing, an He 111 and a Do 17 for strafing only plus a Bf 108. The 12. Staffel had 3 Bf 109, one or more He 46, a W. 34, a Go 145 and a Bf 108. All the 2./ZG1 aircraft were Ju 88s and the three serviceable ones were cleared both for bombing and guns.
NOTE: Signals traffic on 2 July referred to a Bf 108 at Châteauroux, W.Nr. 844.
Avord's base command advised Luftgau West France at 16.00 hrs. that III./SG 4 had transferred that day to Toul — this probably referred to the 9. Staffel whose strength that evening was reported as 12 (9) aircraft and 12 (11) crews. An hour later, the Gruppenstab signalled Luftflotte 3's Operations Officer that a total of 21 Fw 190s had taken off from Clermont-Ferrand and Avord. It appears that "key personnel" were to go by rail to Lyon where 10 Ju 52 awaited them.
2–3 July
During the afternoon the Geschwader asked what bombs and how many of them would be brought from Bourges to Châteauroux. In response to a communication of 26 June, a workshop told the 7. Staffel (at Bourges) that an He 46 E (markings DA+YP) was ready to fly. The Geschwader's Hptm. Müller notified Seventh Army that there was agreement to three photographic staff being detached to Bourges for three weeks.
NOTE: This was probably Hptm. Karl-Heinz Müller of the Geschwaderstab (see 13 August, below).
Next day the Operations Officer ordered one of the Gruppen to report as soon as possible on its strength and the types and provenance of its aircraft. The III./SG 4 had now reached Lüneburg-West, en route to Luftflotte 1 in the east.
4 July
Ludwig Herrlein of 2./FAG 5 undertook a "gang operation" from Mont de Marsan between 03.45 and 06.15 GMT. His aircraft on this occasion was 9V+DK (presumably Ju 290 A-3 W.Nr. 0161). His flight was probably connected with the air cover provided for a German column ambushed en route from Mauléon to Lannemaignan, 24 km east of Mont de Marsan. A Maquis encampment was bombed and a Spanish Republican killed (a German anti-Nazi had died in fighting the day before). Another flight in early July dropped leaflets over the Villefranche d'Astarac area (about 60 km WSW of Toulouse) inviting Resistance fighters to surrender.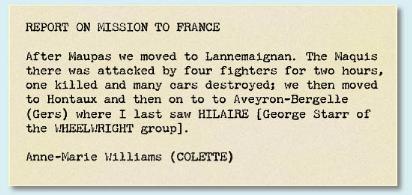 Lieutenant Colonel Starr set down his own account of the "Battle of Estang" once he had returned from France:
The Maquis now 1,200 strong was disseminated in the neighbourhood when a column of about 1,000 Germans was signalled. Four complaines under Capitaine PARISOT attacked this column at ESTANG. Towards 1900 hrs. the Germans retired to the North, intending to return to Mont-de-Marsan and fell into an ambush of two companies who held them the whole night. The next morning [4 July] at dawn the Germans sent planes on reconnaissance. These sighted the trapped Germans who had sent up distress signals. F.W. Kondors [sic] and Dornier bombers arrived practically immediately and machine-gunned the roads and surrounding fields, endeavouring to destroy the cars and lorries used by the Maquis, dropping anti-personnel bombs near LANNEMAIGNAN where many of the men were. We retreated without too great a loss and reformed at Maupas. Our losses were 4 men and the enemy approximately 140. It is regrettable the Germans shot 9 hostages at ESTANG.
Also taking part in this engagement was Westa 2 Ob.d.L., at least one of whose He 177 (Ofw. Nitschke's D7+GK) shot up the village of Estang (in the Gers Département) during the morning. Next day, similar sorties were flown while three further Heinkels dropped supplies to German units under Maquis attack.
Meanwhile for Maj. Longe in Saint Martin, "… Bed at 3 A.M. Planes overhead again and Huns becoming restless on our flanks."
5–6 July
During the morning a German column, reckoned at 154 vehicles, left Valence on a punitive expedition to Le Cheylard (about 40 km to the west). Two aircraft reconnoitred the village early in the morning and around 09.00 GMT they returned to spend almost an hour shooting at anyone they spotted. That afternoon the local Resistance fighters were attacked by "four or five Stukas" (which seems to have been a generic term for German aircraft taking offensive action). The Maquis were able to withdraw having lost 73 dead and 200 wounded; 40 civilians were killed by the Germans and 58 injured.
At 13.04 hrs. when Mustangs strafed Angers airfield, Geschwader Bongart had a Ju 88 shot up and Fw 58 W.Nr. 961, DF+JJ destroyed. The loss of the latter was blamed on one Oblt. Duve for not acting on repeated requests to get it under camouflage. From the 11. Staffel, Ju 88 A-4 W.Nr. 801358 came down at Diors (about 4 km east of Châteauroux-La Martinerie). Pilot Ofw. Erwin Wackerhagen was killed along with Ofw. Erich Singelmann (observer), Gefr. Walter Bartsch (wireless operator) and Ofw. Franz Piorreck (flight mechanic). Singelmann and Bartsch were attached to the crew from the 12. Staffel. Luftflotte 3's War Diary duly records that Bongart lost two aircraft on the 5th but makes no references to later air raid losses (see below).
At 22.00 hrs. the Geschwader was asked by a Commander of Security Police and Security Service (probably the KdS for Grenoble, SS-Hauptsturmführer Ernst Floreck) to operate against a "terrorist camp" about 600 strong on the heights of Les Écouges, 20 km west of Grenoble, which was said to be a suitable target for air attack. In addition, Army Group G asked if Bongart could send a Liaison Officer to help prepare "the special undertaking planned in this area", possibly a reference to the impending assault on the Vercors Plateau (see below). A similar straw in the wind was an order to German troops that day to "disengage 24 hours earlier, in preparation for descent by parachute of advance detachment." Meanwhile, Luftflotte 3 reported that 31 anti-partisan sorties were flown during the day but if its War Diary appendix is to be believed these were not by Bongart. If both records are correct, the question arises as to which unit(s) might have made these flights.
"Low-level attacks against gangs in the Valence area" (five in all) were carried out by 2./JGr. 200's Ltn. Max Moschke, operating from Avignon and Valence itself. It was probably the Gruppe's aircraft — variously described as four or eight "Stukas" — which twice shot up Lamastre (about 31 km WNW of La Trésorerie), killing a woman as she was leaving Mass. After scouting for suitable drop zones on the Vercors, Maj. Longe wrote that, "today was fruitless because of the rocky ground and was hampered by enemy air straffing all day." The Wehrmacht situation report gave a total of 30 aircraft active against gureillas in the Valence area.
On the 6th a "signals Junkers" (probably a Ju 52, several of which had been employed for communications relay during the Blitzkrieg of 1940) was reported to have arrived with Geschwader Bongart and would be subordinated to it; it was at Lissay-Lochy. Thus far in July, the Geschwader had made only three sorties but on the 6th — according to Luftflotte 3 — it flew 24. The Wehrmacht noted a total of 27 sorties between Lyon and Saint Claude (a town around 100 km to the NE). July the 6th was the closing day of a German push in the Massif de Bauges, east of Aix-les-Bains, while another in the Ain and Haut-Jura (west of Geneva) did not begin until the 7th. Meanwhile the IV. Gruppe asked for bombsights and ETC 500 bomb racks to equip Ju 88s W.Nr. 8207, 2383, 6216.
continued on next page …