The day after the Coventry attack, DCAS convened another conference which agreed that the Director of Signals should pay "special attention" to enemy signals that might indicate that night's target. Fighter Command was to be asked why the planned patrol over Fécamp had been cancelled and Bomber Command would be asked to consider conserving part of its effort so that an occasional "specially heavy" attack could be mounted.
In a separate memo, the Deputy Director of Home Operations endorsed 80 Wing's request for six additional Whitleys or Wellingtons so that he could make more destructive attacks on the transmitters. He accepted G/C Addison's contention that with only two aircraft he could only hope to silence a station for a short time, unless by luck. Six trained crews were already available and the aircraft could quickly be fitted out with the necessary radio gear.
The order for that night's Cold Water was given at 10.53 BST. At 14.20, Bomber Command was told to direct the bulk of its attacks on Luftwaffe aerodromes as soon after dusk as possible, in the hope of catching German aircraft on the ground. At 16.00 BST Bomber Command was told that information had been received that Orléans and Châteaudun were likely to be the main bases for that night's Luftwaffe operations. The Air Ministry asked that these be included in the night's Cold Water programme. WIDU was assigned to attack the Cherbourg transmitters again. The first Whitley would leave Boscombe at 18.00 BST, the second 15 minutes later. They would follow the previous night's attack profile, returning home at 20.45 and 21.00 BST respectively.
At 22.25 hrs. the Air Ministry advised Fighter, Bomber and Coastal Commands that beams from Cherbourg had been laid over London on a line west of Surbiton station – Olympia – the Paddington Area – Westbourne Grove.
On the morning of the 16th Cold Water was again ordered for that night. Next day the Air Ministry advised the Commands that the operation would be revived in future if there was good information of another German attack on the scale of Coventry. Ultra revealed that the Germans were urgently seeking Landesschützen troops to stand guard over the beam transmitters and Labour Service detachments to help with the fortification of the sites. At 08.00 GMT on the 16th, ISAR reported that hostile aircraft had approached, attracting heavy Flak fire.
Three bombs fell SE of SPREE on the night of 17/18 November and two nights later two more came within 200 metres of one of the two Cherbourg transmitters without doing any damage. At 09.00 GMT on the 22nd, ISAR again reported aircraft overhead being engaged by Flak and at around 18.15 an estimated 8–11 bombs were salvoed, falling about 650 m. west of the transmitter and 250 m. from the living quarters. The aircraft was thought have approached from 240º. Despite problems with the weather, WIDU made further attacks the Cherbourg transmitters during November. Two Whitleys bombed in poor visibility on the 23rd/24th and could observe no results but the stations were still transmitting after their attack. Three nights later two more attacked in cloud and so could not see where their bombs fell; there was some Flak (increasing for the second Whitley's run) and again transmission was not interrupted. On the 27/28th a single Whitley ran in at 13,000 ft. and as the rear gunner reported bursting bombs, the wireless operator heard the beam go off air. It was not heard again during the return flight. The last bomb of the stick silenced a heavy Flak position which had been firing throughout the attack. Two aircraft were again employed the following night, bombing from north to south at 10,000 ft. Visibility again precluded observation but transmission ceased as the bombs from the second Whitley exploded and did not resume that night. Intense Flak was encountered and crews reporting sighting six single-seat fighters.
Leutnant Langhelm reported from ISAR that seven or eight medium-calibre bombs fell about 400 m and 190º from the station at 17.56 GMT on 11 December. The attacking aircraft had approached from the south and there had been no damage to people or property. This however was not the only tribulation for the "river stations" that day. Oberleutnant Mayer complained to physicist, Dr. Rudolf Kühnhold, that Luftflotte 2 was constructing a UHF-capable jammer on Mont-de-Couple, 1.25 km NW of Audembert and 600 m from RHEIN and ELBE. Despite objections, Maj. Rosenranz (probably Wilhelm Rosenkranz of Stab/Nachrichtenführer Lfl. 2) had ordered that the installation was to go ahead "at all costs." Mayer sought Kühnhold's intervention since he feared that the jammer would make transmission impossible from RHEIN and ELBE. From Vannes, the Oberleutnant was advised that Lfl. 3 was calling in Dr. Hans Plendl, a leading light of German signals research, to determine whether the guidance beams would in fact be affected. Two days later, Mayer was told that his predecessor appeared to have agreed the proposed siting of the jamming transmitter, Rosenkranz was said to be fuming and he (Mayer) was, after returning from Köthen, to go and see him. As well as this attempt at fence-mending, Plendl was to give his expert opinion. The argument was settled on the 15th following an inspection by Drs. Plendl, Scholz and Herzog, during which a test transmission had been made with "not the slightest disturbance" experienced by the river stations.
As late as 31 December, Bletchley's Hut 3 minuted W/C F.W. Winterbotham of the Secret Intelligence Service:
Presumably the expediency has been considered of launching a major bomber attack on the several German River Beam Stations, with a view to their destruction.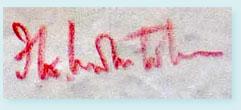 This suggests that Bletchley was not told of WIDU's efforts over the previous six or seven weeks, although their decrypts had described some of the attacks. The minute cited how SPREE had been silenced for a month and the importance the Germans attached to the transmitters, both points considered by No. 80 Wing in launching its attacks. Nevertheless, Bletchley had learned from a decrypt that day that more aircraft were to be fitted for beam operations from Vannes by 6 January 1941. Recognising that there were arguments against the "indiscriminate destruction" of the stations, the author went on:
Could Coventry, Sheffield, and now the City of London (29/12) have been bombed with such concentration if KG 100 had not had the use of river beams?
… Several competent persons in this Section who have seen the bare German language over a period of months … have come to the conclusion that, if our wireless and other counter-measures are not properly effective, these river stations should be destroyed—even if the cost is heavy.
There are pencilled notes in the margins of the file copy:
Dr [R.V.] Jones spoke to me same day about difference of opinion in Air Staff concerning destruction.
VCAS + [signifying approval?]
DCAS -
[Gp. Capt.] Lywood ±
Sholto Douglas in favour.
Meanwhile, Hermann Göring's New Year's message to KGr. 100 had exuded confidence:
At the close of 1940, I express to the C.O. and to this Gruppe my sincere thanks for an achievement unique in history. I know what enormous personal effort it has entailed on the part of each individual, and I am convinced, my comrades, that in 1941 as well, you will know only victory.
continued on next page …